First of all, thank you for considering our browser extension.

I hope the next few minutes you will spend learning about Qlearly will help you remain organized and save hours down the road. 🙏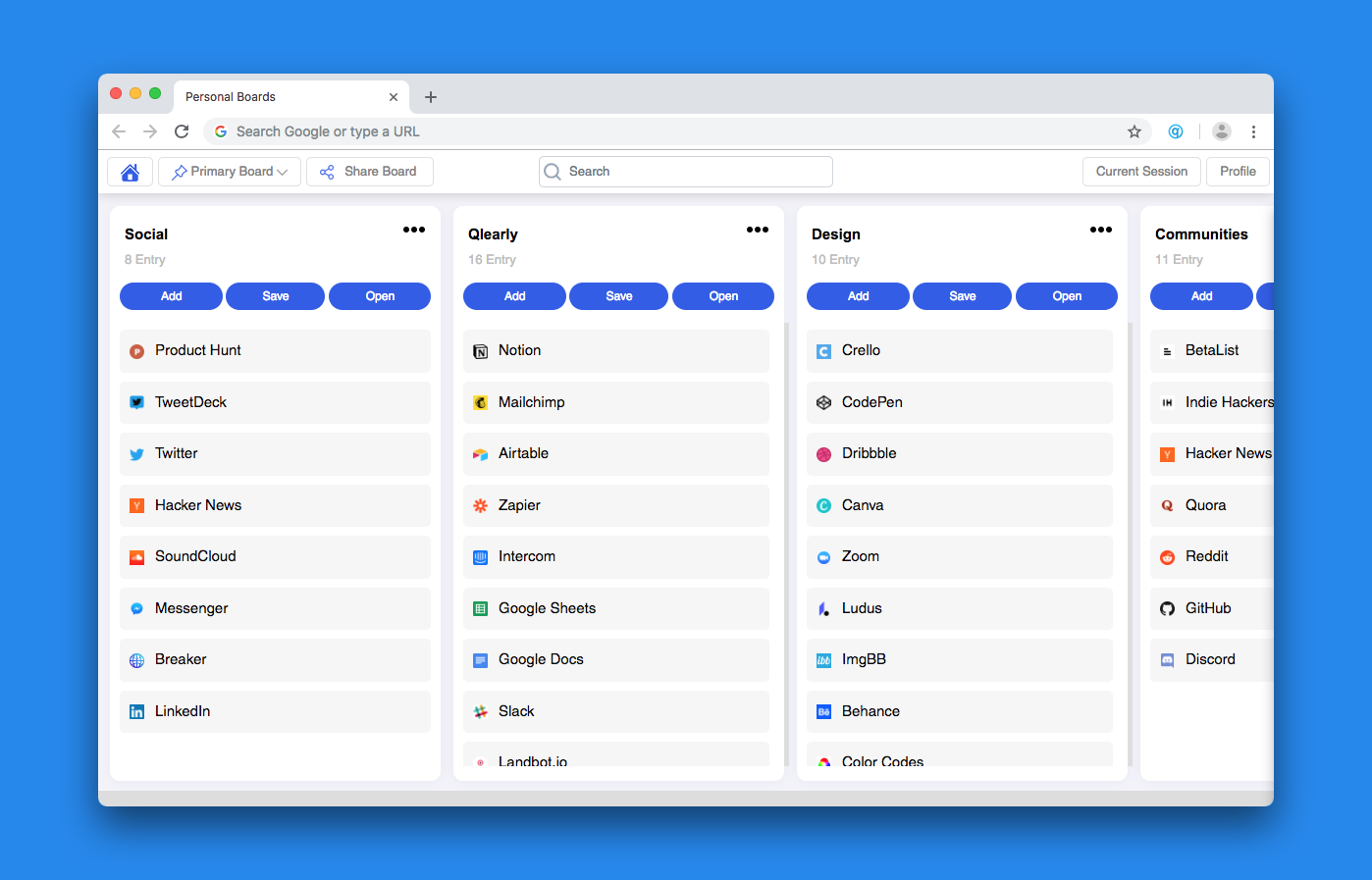 Here is how to get started:
As of now, Qlearly is available on Google Chrome and Firefox.
You can also install it on Opera, Brave, Microsoft Edge and other Chromium browsers by visiting the Chrome Web Store.

If you do not want Qlearly to open in your new tab, you can download 'Qlearly Light' instead. It is the same extension, without this feature.
If you do not want to have to upgrade, you can use Qlearly Basic instead.


After installing the extension, you will have the option to:
Import Your Bookmarks (Left Option - Import From Browser).
Or skip and add them manually (Right Option - Add Manually).
To import your bookmarks, simply select the folders or subfolders you would like added to your main board. You can always import more later.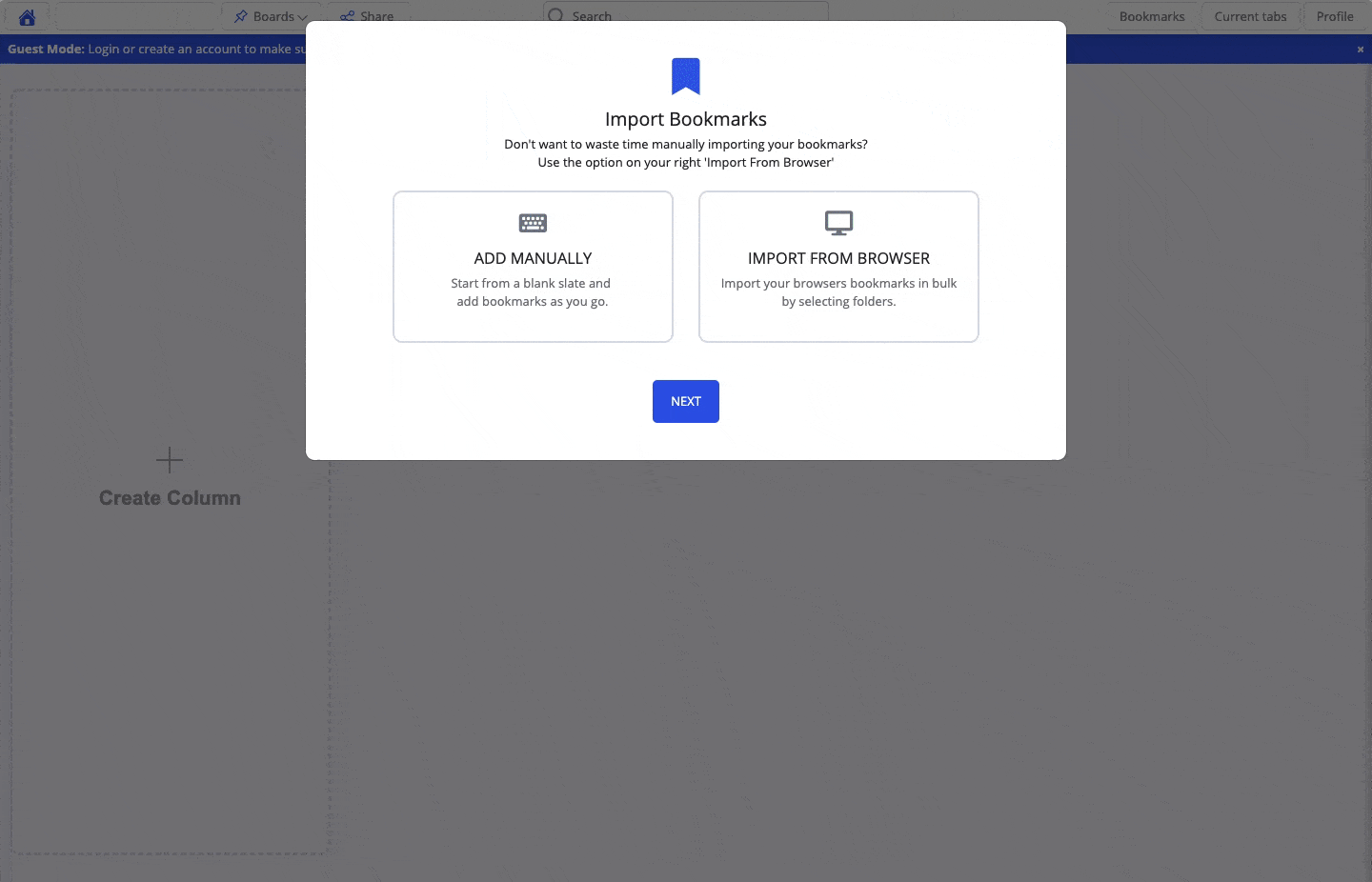 🛠 To help you get the most out of Qlearly, here is a breakdown of what every button does.

You can find the one you are confused about by clicking Command + F.
Within a column: (The three blue buttons)
● Add: By using this button, you can manually add bookmarks.
● Save: This will save all the tabs you currently have opened to this column.
● Open: This will open all the bookmarks saved in that column.
Column settings: (From top to bottom)
● Create Task: This allows you to add tasks to your board.
● Create Note: This allows you to create notes or simple spreadsheets.
● Bulk Edit: Quickly import or export a list of links.
● Duplicate: Quickly duplicate a full column.
● Move to: Move the column to a different board.
● Share: Use this option to create a public column.
● Sort by: Sort by alphabetical order, newest, oldest.
● Remove duplicate: Quickly remove duplicates
● Delete All Tabs: This button will remove all your bookmarks.
● Delete Column: This button will delete the entire column.


The top menu: (From right to left)
● Home icon: The home icon will take you to your list of boards.
● Board Name: Here is the name of the current board you are on.
● Boards: You can use this to quickly switch to a different board.
● Settings: You can use this button to delete, duplicate or share a board. You can also use it to Export & Import data.
● Search: You can use the search field to search your boards, as well as searching Google right from Qlearly. Visit your profile settings to edit the results.
● Bookmarks: This button shows a list of your browsers bookmarks. If you save additional bookmarks using the star from your browser, they will appear here.
● Opened tabs: See the tabs you currently have opened. You can drag and drop a single tab into your board, or click the tab to quickly go to it.
● Profile: Use this dropdown to login or register. You can also use it to try our night mode and to learn more about our shortcuts, or getting in touch with us.
Extension Dropdown: (When clicking the extension icon)
● Open Qlearly: This will open your list of boards / Qlearly Dashboard.
● Save All: This will save all the tabs you currently have opened, to the column and the board you selected above it.
● Save Current: This will save the tab you are currently on, to the column and board you selected above it. This is a good way to save a single tab.
Do you want to save even more time?
Let's quickly talk about a few features you might find useful.
● You can change the board that will open in your new tab by clicking on the star.
● You can backup your data by using our new 'Backup' feature.
● If you bookmark a site when browsing around, you can find it by clicking 'Bookmarks' on the top left of a board.
● You can also bookmark a site by doing a right click when you are on the site.
● By visiting your account settings, you can have the tabs close or stay open when you save them. Or you can have them open in a new tab or on the current tab.
● If you have a lot of bookmarks, you can set the search to work per board instead of your overall account.
● You can also avoid saving duplicates and/or your saved tabs.
● You can also choose between nine fonts.
● You can create public boards, which are SEO friendly with title, description, custom link all the way to a thumbnail.
● You can create basic notes, all the way to a simple spreadsheet and tasks.
● And of course, you can collaborate with teammates.
You can learn more about specific features by visiting our help center.
Here are some article you might find helpful:
- How to backup your board.
- All the ways to save tabs on Qlearly.
- How to share boards privately.
- How to share boards publicly.
- Turn off the new tab feature (Qlearly taking over your browser).
Finally, we also recommend getting familiar with our keyboard shortcuts.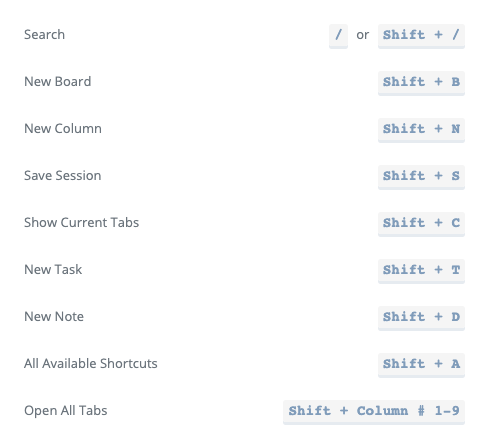 Thank you for taking the time to go over this article.
We hope you will find Qlearly to be a good solution for your bookmarks!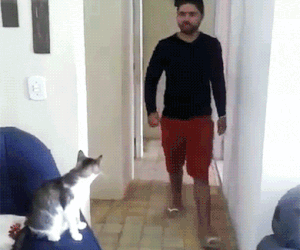 If this article did not answer your question, do not hesitate to reach out. 📧
Email: hi@adeptlabs.co or Contact Us. Twitter: @Guillaumebardet